The Early Years
In 1924, Reverend Abraham B. White became the pastor for the very small membership. During his spiritual leadership, GOD blessed the fellowship tremendously. The church grew in all areas. A new church building was erected at 1939 Philpot Avenue. Reverend White was an exemplary Christian model and mentor in the community. He ministered to the membership traveling by foot. He is fondly remembered as a rotund figure, wearing his characteristic skull cap and carrying a cane. Under his guidance, many converts were led from damnation to salvation. Additional members were added to the church roll from their Christian experience. Fervent religious and evangelistic programs and services led many youths and other unconverted ones to accept JESUS CHRIST as their personal SAVIOR.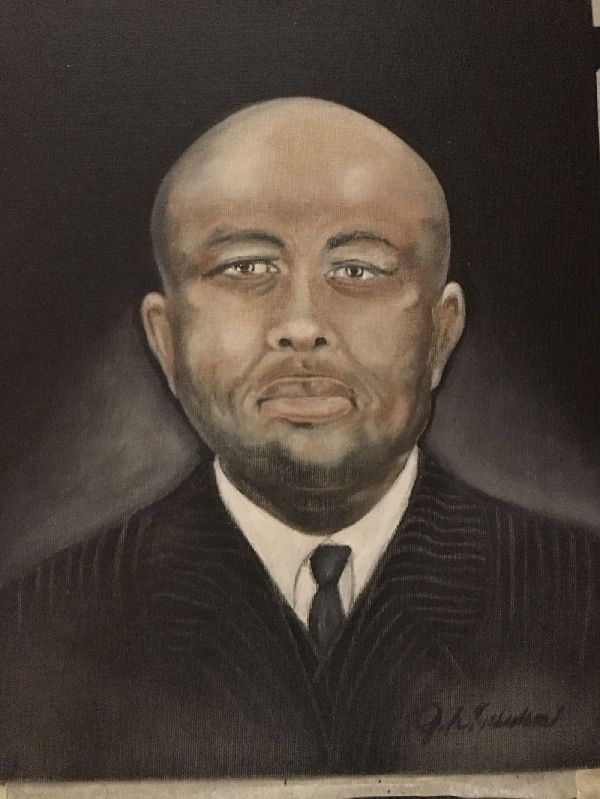 Reverend White was assisted in the church's departmental organization by the first lady, Sister Pinkie White, who organized the missionary society; members were Sisters: Eliza Russell, Lula Brown, and Bell Dubose. These ladies worked hard and bought the first church bell. Sister Tennie Alexander organized and directed the first choir. Growth continued as the church's facility was expanded, church officials were elected, and the years of leadership and pastorship brought Ebenezer from its humble beginning to a higher level of visibility and viability within the Selma community. More importantly, he counseled the membership to "press toward the mark for the prize of the high calling of GOD in CHRIST JESUS." Philippians 3:14
"For with GOD nothing shall be impossible". Luke 1:37 "For this corruptible must put on incorruption, and this mortal must put on immortality." I Corinthians 15:53
Reverend White was called from labor to reward on November 24, 1964. During the declining months of his life and until a new shepherd was called to lead this flock, Reverend L. T. Thompson served as assistant and interim pastor.
"Then Samuel took a stone, and set it between Mizpeth and Shen, and called the name of it Ebenezer, saying hitherto hath the Lord helped us."
I Samuel 7:12
The Formative Years
After having been searched and selected by the membership, Reverend Frederick Douglas Reese became the third pastor in the glorified history of EBENEZER BAPTIST CHURCH and delivered his initial sermon as pastor on the third Sunday in March, 1965. Under his dynamic and Christian leadership, the church experienced tremendous growth in membership as well as spiritually and financially.
A landmark in his leadership was the construction of the present edifice at 1548 Dr. F. D. Reese Street (formerly LeGrande Street) which was dedicated to GOD and the commemorative cornerstone laid in 1974. Realizing the need for continued growth and to facilitate larger and more diverse membership, the Educational Wing was envisioned and dedicated to GOD on November 12, 1989 to educate the youth, in particular; and to serve the membership, at large.
 A milestone in his ministry was the expansion of current auxiliaries and the organization of additional ministries including: Deacon Board, Trustee, Brotherhood, Ward Leader Teams, Missionary Society/Circles, Deaconess Board, Senor Matrons, Junior Matrons, Hallelujah Chorus, Youth/Young Adult Choir, Children's Choir, YWA, Senior Ushers, Young Adult Ushers, Junior Ushers, BTU, Junior Deacons, Crusaders, Sunbeam, Willing Workers, Radio Broadcasting Ministry, Tape Ministry, Children's Church, Membership Counselor, Praise Dancers, and Intercessory Prayers circles. He increased the church's participation in local, state and national conventions/associations; ongoing fellowship with other congregations; and active involvement in community affairs.
By precept and example, he exhorts the membership to worship the Bible way of tithing one's time, talents and finance. He teaches incessantly through organized Bible study the mandate to "Study to shew thyself approved unto GOD, a workman that needeth not to be ashamed, rightly dividing the word of truth." II Timothy 2:15.
Dr. Reese came with enthusiasm, dedication, and commitment to carry out the mission mandate: "Go ye therefore, and teach all nations, baptizing them in the name of the FATHER, and of the SON, and of the HOLY GHOST: Teaching them to observe all things whatsoever I have commanded you: and, lo, I am with you always, even unto the end of the world." Matthew 28:19-20. In conjunction, he formulated a mission statement for the membership: "To go and evangelize to the world and to edify the church to carry forth the gospel of JESUS CHRIST through the working of the Holy spirit in each believer's life" and admonished the membership to prayerfully execute it. He further exhorts us to individually and collectively be witnesses for CHRIST as well as soul winners. He teaches the concept of witnessing as the major program thrust to the entire membership in both large and small assemblies. He has expanded the out-reach ministry of the church to include each member of the church. Through his committed and spirit- led leadership, he has broadened the minds of the members to a higher level of spiritual awareness through an in-depth study of the Word. Truly we are a "Witnessing, Praying, Faithful and Caring Church".
After an intensive and exhaustive needs assessment, the church family embarked upon a building project designed for the enhancement of our Sanctuary and added additional facilities. Started in the fall of 2002, the ongoing project meets the current needs of the membership, providing for future growth.
An inclusive building program envisioned by Pastor Reese encourages each member to be committed to support the church with sacrificial offerings as well as the tithe. Land acquisition allows the church to embark upon long range goals for future expansion and development.
Dr. Reese has been assisted and enhanced in his pastoral role by his capable helpmeet, Sister Alline Crossing Reese. She has served faithfully as Sunbeam Supervisor, Sunday School teacher, Sunday School, Young Adult Usher Board Counselor and church musician as well as spiritual counselor for ministries within the church as well as anyone in need.
We continue to engage fellowship and evangelism by reaching out to the Christian community and the unsaved far and near. Our influence is noted nationally and internationally as our sons and daughters traverse the world carrying and implementing Christ-like principles instilled within this membership.
The membership has done much in the development of the progress and success of the church. The church's archives contain a long chronology of active participation by member in various positions of leadership and service. A committed membership, under the guidance of dedicated leadership, has been the key component in the successful and continual growth of this our beloved EBENEZER. Our spiritual legacy of eighty-five years propels us to march forward with spiritual momentum as we continue into the Twenty-first Century.
We celebrate our success by giving praise to God Almighty, witnessing for Christ, and fellowshipping with family and friends as expressed in our theme: "As we meet again, Thoughts of God's Love, Peace, and Joy Dwelleth in our Hearts."
The Present Age
Between January 2014 through December 2016, fifty-nine (59) new members joined Ebenezer's baptized body of believers and the half million-dollar church renovation debt was retired 8 years early. (Note: Sister Althelstein M. Johnson, Sister Angernette M. Carter, and Rev. James Perkins, Jr., affectionately referred to as "Push, Pull, and Drag" implemented a series of strategies resulting in the retirement of the renovation debt of $500,000 and on Sunday, November 16, 2014, the church burned the mortgage.)
During the 2015 annual conference, December 3, 2015, with wife, First Lady Alline Cross Reese and daughter, Minister Christa Reese by his side, Rev. "Dr." F. D. Reese announced his decision to retire as pastor, after 50 years, 8 months, 12 days of service. His retirement statement consisted of the following three points: 1) acknowledged his 
immediate retirement, 2) requested Pastor Emeritus status, and 3) recommended Assistant Pastor, Rev. James Perkins, Jr., to serve as next pastor. Members present ceremonially accepted Dr. Reese's retirement and voted to approve his Pastor Emeritus status request. Additionally, the members voted to elect Rev. Perkins as Interim Pastor and selected a Pulpit Committee, chaired by Deacon Daryl Thomas, to consider Dr. Reese's recommendation for pastor. The Pulpit Committee met and decided to interview Rev. Perkins; and after the interview decided to recommend to the church body to accept Dr. Reese's recommendation to elect Rev. Perkins as pastor of EBENEZER BAPTIST CHURCH. On Sunday, December 20, 2015, immediately following church service, the church met and overwhelmingly voted, with a standing vote, to elect Rev. James Perkins, Jr. to serve as the fourth pastor in the blessed history of EBENEZER BAPTIST CHURCH. With wife, Sister Cynthia P. Perkins by his side and all their children present, Rev. Perkins accepted the call to serve as church pastor.
On December 27, 2015, Dr. Reese preached his retirement sermon entitled, "Assessing and Understanding the Value of Life of True Worship at the End of Year 2015", with the text drawn from John 4:10, 4:13-14, 4:23, 4:28-29; 1 Corinthians 3:16-17; 2 Kings 20:1- 3; and Matthew 4:10b.
On January 3, 2016, Rev. Perkins preached his initial sermon as senior pastor entitled, "SWOT Yourself", with text drawn from 1 Peter 2:1-3 and Hebrews 6:1.
As the Word of God continues going forth and continues drawing soul into the Kingdom of Heaven, the Triune God whom we serve continues blessing Ebenezer with His Grace and His Mercy. And for His Grace and Mercy shown towards us, we declare, "To God Be The Glory."